Football-themed visit at The Nest for Foundation groups
Two deserving groups from the Community Sports Foundation got to experience all the home comforts of The Nest over the weekend.
Adults from the Foundation's disability programme and the Street Life Soccer programme enjoyed a one-night stay at the charity's 22-acre community hub in Horsford.
A mixed four team football tournament took centre stage on the Saturday, with teambuilding activities and games in the evening.
On Sunday, after breakfast and a training session, the teams travelled to Carrow Road to watch Norwich City's four-goal thriller with Arsenal in the afternoon.
The Street Life Soccer programme works with vulnerable adults, using football as the tool to engage the participants and provide a routine that allows access to social, health and employment benefits.
The disability Player Development Centre set-up gives opportunities for adults with disabilities to represent Norwich City FC in fixtures against representative teams from other Premier League & Football League clubs, as well as benefit from weekly training sessions.
Both programmes are supported through Foundation fundraising efforts.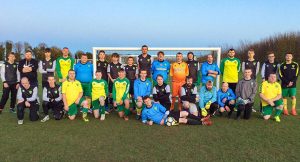 Darren Hunter, CSF Disability Development Manager said:
"The guys and girls all had a super time. The Nest is a great environment to relax, destress, make friends and build bonds with teammates.
"We've got AFC Bournemouth's Cerebral Palsy and Hearing Impaired teams visiting us at The Nest in January for fixtures against our teams, which should be another memorable weekend for our participants."
A four-month campaign was launched in October by the Football Club and the Foundation to raise the £1 million required for the second phase of building works.
Plans include a 3G artificial football pitch, an IT learning suite, and two multi-use spaces, which would allow the Foundation to extend its reach by another 12,000 local people.
To find out more about sports visits to The Nest, click here